Skinny, Healthy, Happy
Which one are you?  The skinny person?  The healthy person?  The happy person? Are you all of them?  What does it really mean to be "skinny".  I feel like my whole life that word has been thrown around.  Everyone wants to be skinny.  But what does skinny really mean.  There are so many people out there who appear to be skinny.  But are they healthy? Are they happy? Or are they just a 120 lbs ball of fat with legs walking around.  Well quite possibly they are.  But how do we know.  
 It is very hard to know just by looking at someone who is walking past us on the street. I remember my best friend growing up had the greatest metabolism.  She ate whatever she wanted and stayed this skinny little thing.  At the age of 10, I couldn't understand it and I spent many days crying over my weight- trying all kinds of diet programs to be that "skinny" girl. But it took me many years to get over it!  To get over wanting to be the skinny girl. 
I got over it when I became educated on how the body works and how body composition plays a huge role in the number on the scale.  I was always so focused on the number and not what the number really meant and represented. I wanted to be lean and trim and stop caring about the actual number that was associated with being "skinny". It was more important to me to be HEALTHY.
To be healthy I had to learn that muscle weighs more than fat.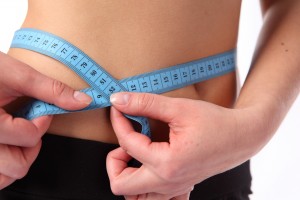 And if I am working out regularly I might never achieve that "ideal" number.  I thought I needed to lose 10 lbs or 20 lbs or whatever in order to be happy, but I didn't really know what it meant to lose 10 or 20 lbs.   So instead I started to think about what would make me happy.  I would be happy wearing the sexy black dress, I would be happy if I completed a half marathon, I would be happy if I could carry the groceries in from my car without being winded.  All of these things would make me happy. 
Realistically, I will never be a 120 lbs.  It is just not natural for my body.  And that's ok.  I would much rather be 150 lbs and strong then 120 lbs and mushy.  So for all of you out there who are struggling with being SKINNY, HEALTHY, AND HAPPY here is my advice to you.
Be the right skinny
Define being skinny by the pair of jeans you want to wear or the mountain you want to climb  
Identify a healthy weight for you
Build muscle and lose fat regardless of the number on the scale
Eat right and exercise
Define your own happiness  
Only you know what will make you happy- don't worry about what everyone else thinks