Breakfast Really Is the Most Important Meal of the Day
I am not really sure where and when we lose the message that breakfast is the most important meal of the day, but it really really is.  Everyone should be eating breakfast.  Everyday I meet someone who tells me that they do not have breakfast.  I personally just don't get it.  I would rather eat breakfast then dinner any day. I love breakfast.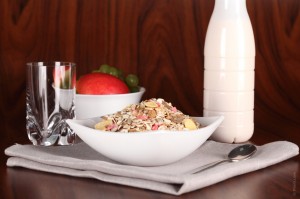 I have heard a million times well I am just not hungry in the morning.  Well, I can probably tell you why.  Because you are eating too much at dinner.  When you eat a lighter dinner and do not graze on all sorts of snacks until you go to bed- you will wake up hungry for breakfast. 
I am sure you have heard this before but look at the word breakfast.  It literally means to break your fast.  While we sleep we fast.  When you wake up you are supposed to break your fast by eating something. Hence, the term breakfast.  By breaking your fast you give your metabolism a boost.  When our engines are running we burn more calories throughout the day.  It is also proven that you perform better at work or at school because you have fueled your brain.
Make it a goal to have breakfast everyday.  Try any of these healthy breakfast ideas to get your day started on the right foot. 
-Greek yogurt
-Thomas Multi-grain Lite English Muffin with Natural Peanut Butter
-Egg white Omelet with Veggies and 2 slices of wheat toast
-Kashi Go Lean Cereal or Special K Protein Plus Cereal with Skim Milk
-Steel Cut Oatmeal made with skim milk
-Multi-Grain Frozen Waffles or Pancakes
-Cottage Cheese and Fruit