Meet Sara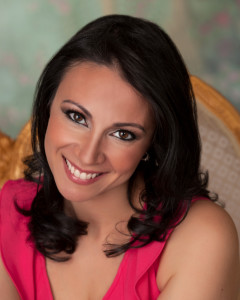 Sara Shama received her Bachelor's degree in Nutritional Science and Dietetics from Rutgers University.  She then completed her 10 month internship through the Sodexo Health Care Services Division New York Metropolitan Dietetic Program where she completed the program with academic excellence.  Sara has worked in both the in-patient and out-patient setting.  She has spent most of her career working with individuals trying to achieve their weight loss and health related goals.  Sara feels that it is important to achieve a healthy lifestyle and not look at weight loss as being on another diet.  She tries to help her clients make small gradual changes to their behavior that will lead to lifelong results.
On a more personal level, Sara empathizes with her clients as she has also struggled with her weight prior to becoming a dietitian. Throughout her life she has been on many diets, but it was not until she became educated on how the body works and how food fuels our systems to function optimally was she able to maintain a healthy weight.
Sara understands the difficulties behind juggling ones home life, a job, and health in todays on the go world.  On a regular basis you will hear her say to her clients "let's keep it real".  Sara feels that it is important to set realistic expectations that will only result in her client's success.  Sara makes it a point to educate her clients on the difference between reality and expectations so that no one ever walks away disappointed.  Her passion, high energy and out-going personality keep her clients coming back week after week.
Sara enjoys working with people of all ages from pediatrics to geriatrics.  Everyone is different so no two people will have the same experience.  Generally, your initial visit is an assessment where we discuss your current eating habits, lifestyle, and goals.  We develop a plan of action to determine how we are going to get you from where you see yourself today to your ultimate goals.  You will leave your first visit with a few goals to start working on.  At your second visit, you will be given an eating plan and learn how to label read.  This will begin to set the foundation for how you need to eat.  From there we will build on that foundation and start developing menus together.  Sara does not believe in giving you a list of things to eat for your meals and snacks without any deviation.  Food is something that most of us love and we do it with friends, family, co-workers, etc.  You will want to incorporate foods from your culture and heritage that may not always be the most health conscious.  We will work together to learn how to modify those foods that you love so much to meet your needs.  Whether it be altering the recipe to save on some calories or modifying the portion we will make it work for you.  Remember it is not about deprivation its about moderation.  And if we can find a happy balance you will successfully achieve your goals without feeling too restricted.
The number of visits needed will depend on you and your goals.  Some people need a little more support and they like the frequency of weekly visits.  Others feel that they can do it on their own and like a little more time between visits.  Sara does not usually recommend visits to be spaced more than every other week.  It is very easy to fall off the wagon during the week when we are busy with our day to day lives- work, home, etc.  It is helpful to have someone to be accountable to and help you keep your diet and exercise goals front of mind.