Pizza Pizza…mmmm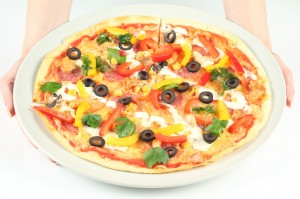 Everyone loves pizza, right?  I know my family does.  But how do you eat your pizza is the big question.  Believe it or not pizza can actually be a healthy meal option depending on how you eat it.  If you do the meat lovers, not so much, but if you do the veggie lovers then you are on the right track.  Some other good options are the ones with grilled chicken and veggies.  That way you get the lean protein, the veg, and the carb.  And if you order the whole wheat crust…well then you just hit the jackpot of good nutrition. lol! 
As I always say you can eat just about anything. It is all about the frequency and the portion.  If you can control yourself and have at the most 2 slices at lunch or dinner you can probably stay around 500-600 calories for the meal.  Which is not that bad. 
I was reading this months issue of Parenting magazine and on page 64 they have a recipe for Personal Portobello Pizzas.  They look delish if you like mushrooms.  Per serving they only have 119 calories (7 g protein, 8 g fat (2 g sat fat), 8 g carb, 2 g fiber).  Sounds like a winner to me.  They would make a great snack too!
Here is the recipe:
4 large portobello mushroom caps, (stems removed)
2 tbs olive oil, divided
1 8-oz. can tomato sauce
1 clove garlic, minced
1/4 tsp dried italian seasoning
1/2 c. shredded part-skim mozzarella cheese
Preheat oven to 400F. Line a 15x10x1 inch baking pan with foil; brush lightly with olive oil.  Place the mushroom caps stem side down in the prepared pan.  Brush the caps with remaining 1 tbsp olive oil.  Bake mushrooms for about 10 minutes.
Meanwhile, in a small bowl stir together the tomato sauce, garlic, and the italian seasoning.  Drain off the liquid from the mushrooms.  Turn mushroom stem side up.  Spoon sauce into the mushroom caps.,  Sprinkle with the cheese.  Bake for 10 minutes more or until heated and cheese is melted. Makes 4 pizzas.
Enjoy! 
 And, no I do not count pizza as a vegetable. I know there has been recent talk about some school districts counting pizza as a vegetable.  That is just ludacris.  This is why obesity is running rampant in our country.