Tis the season…for many unwanted calories.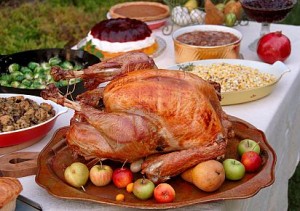 I am just not going to eat all day so that I can really enjoy my Thanksgiving meal.  You get to Aunt Sally's house; you have a couple of cocktails and some cheese and crackers.  Ugh, I am so hungry.  All I keep thinking is when are we going to eat.   I just can't wait for dinner.  I am going to eat that whole turkey.  MMMM! 
You sit down for your meal.  And you're piling on the potatoes, stuffing, corn bread…mmm!  Let's make it 2 pieces of corn bread.  Anybody see the gravy.  I need to lather up my turkey with some gravy.  Mmmm….mmmm…. so good.  I am so hungry I just can't stop myself.  You devour that first plate in about 6 minutes. 
Time for seconds.  I really don't remember eating those potatoes I think I will have another scoop.  Let's add on another piece of turkey.  Mmm!  Half way through the second plate..ugh I can't breathe.  I feel like I am going to explode.  I don't think anyone will notice if I unbuckle my belt.
Does this sound familiar. How many years in a row have we made the same mistakes over and over again.  Yet, we never seem to learn our lesson. 
How about this year we do things a little differently.  Start off with having breakfast- it doesn't have to be a huge meal maybe a greek yogurt or an egg white omelet with some veggies.  Then a light lunch maybe a salad with a scoop of tuna.  Get to Aunt Sally's feeling comfortable and in control. Yeah, I can eat- I am not starving, but I can have dinner if we are ready.  You survey the table and decide that you never really like Aunt Sally's stuffing so this year you are going to skip it.  You fill your plate with veggies first, then add a piece of turkey, and a little bit of  potatoes and ½ a piece of corn bread because you know you want to have some pie for dessert.  You take your time eating, you enjoy the table conversation, and best of all you are grateful that you did not make the same mistakes that you make every year.  You were in control, you enjoyed your meal, and now you are ready for Black Friday Shopping. 
Happy Thanksgiving!